#1. Complete Review of CheckWriter Software: CheckWriter Review

Overall
Rating
:

THE BEST



Features:
Feature packed, and up to date, this software allows businesses to

take checks by phone

, checks by fax or checks online gets the #1 ranking.

The CheckWriter brand had everything needed to do drafts, printed checks, facsimile drafts, and even blank checks. CheckWriter Software has easy monthly billing, batch printing, invoice options, as well as top check and 3 per page styles.

The import and export were great for web orders from shopping cart files, and it queues imports for review and batch printing.

The network edition of the software allowed for unique usernames each with customizable permissions so you could lock out key functions to other users like print, delete and options menus. The CheckWriter software also had two customizable fields that are searchable.

The main screen is easy to use and everything is easy to find, easy to duplicate and easy to print. A live routing number database on the toolbar, as well as an automated data backup feature made the

Ease of Use
Much easier than any other, the CheckWriter user interface is well thought out and friendly. A quick click toolbar has most functions available with 1 click. More complex functions like import are also very easy and obvious. I mapped and saved my shopping cart text file template and CheckWriter remembered the file and imported it without error each time.

Customers or past checks can be searched from the main screen, or from a spreadsheet view which is used for batch printing. I set up some test monthly billing and processed it very quickly, doing a cycle of 40 people on a monthly plan.

How It Works at the Bank
The company claims the checks and drafts are Check 21 compliant, so I ran them through my desktop deposit scanner, deposited them into an auto scan ATM machine and brought them to the window and in all cases the items were accepted, validated and credited to my account.

Installation Ease
I installed the software on an XP machine and a Windows 7 64bit PC and both were easy and error free. I purchased the "Duplex Edition" to evaluate which is for 2 users, one administrator and one customizable end user. the users and permissions were very easy to set up. I linked the software through my network after a call to their support department.

Help and Support
Called support to get help linking the two users to one database and spoke with someone right away without holding. It turned out to be a permissions issue and I needed to grant permission through Windows. This was free because it was within the first 30 days - after that they have free online support or pay-per-issue support that is $19.99 flat rate.

The Full Picture
CheckWriter software gets top ratings from this reviewer. The single user version is $129.99. The version I bought for 2 users was $209 "CheckWriter Duplex". For more users, you can get other versions that cost up to $1,000.

Aside from being easy to use, the software printed checks and drafts that were 100% compliant with regulations for distribution, data security and printing. The support provided what I needed when I needed it, and the company seems to be on to of compliance with regular updates and legal distribution.

Screen Shot: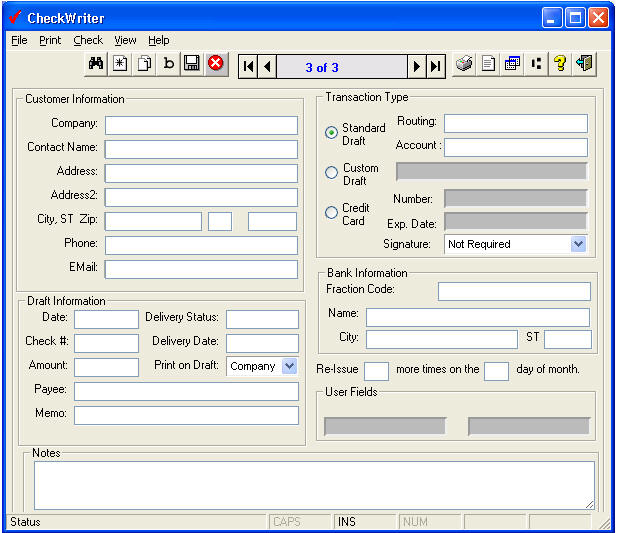 Overall
Rating
:

THE BEST

Other Products not reviewed from the same publisher:


CheckWriter Cloud

is a cloud based system for PC or Mac. It is stand alone, but has a monthly fee.


#2. Complete Review of Quickbooks Pro with PrintBoss
Overall Rating:

VERY GOOD
Features:
I have used Quickbooks for many years and had a love / hate relationship. I have had colleagues tell me that they use Quickbooks for everything, including MICR check drafting, so my first call was to Intuit, the publisher of Quickbooks, to find out how to make my $250 version of Quickbooks Pro 2007 print drafts. After only about 30 seconds holding, they told me I just needed an add on a plug-in software they sold called PrintBoss for $149.

Quickbooks and PrintBoss have features galore, including a full accounting suite that links to all of your online banking, and prints your tax returns. It has customer recall, invoicing, payables, receivables, payroll and with PrintBoss you have the ability to also do checks by phone, fax or online.

The only feature missing was a viable web form solution, although you can import a csv from your own form or shopping cart. PrintBoss also has so many other features allowing for check alignment, special printing, payments, multiple payees, auto-fill, print blank checks, and more. You use the back up system build in to Quickbooks.

Ease of Use
While feature packed, it first requires getting into Quickbooks, then setting up the PrintBoss system to do what you want to do. While robust, it is not for beginners, both have a learning curve and do what they are intended to do without question.

How It Works at the Bank
Intuit has been in this business for years, and won the 2003 Better Business Bureau Torch Award for Marketplace Ethics. Because Quickbooks is sold at retail stores, they require authentication to order PrintBoss and follow all marketplace guidelines. The software is constantly updated to comply with new rules and regulations. I used these drafts in desktop deposit, the self scan ATM and at the teller in the business express line and they were treated like normal checks.

Installation Ease
Because Quickbooks is a full accounting suite and a plug in, it takes up tons of space on an XP machine, you should have about 500MB of hard drive space just for this application. Installation was easy, but took a long time on my XP machine, but not as long on my Windows 7 PC.

Help and Support
Intuit has fantastic support for their product when it is still in fashion. They were right there to tell me about PrintBoss, but also reminded me that they no longer support the 2007 version [5 years old] and I should consider the upgrade for $200 to get support. I was able to get PrintBoss to work with my old version without support.

The Full Picture
QuickBooks is a great accounting package and adding PrintBoss will allow you to take checks by phone, checks by fax or online and keep customer records stored on file for monthly billing and invoicing. I found that because I don't use Quickbooks for customer data storage normally, and I use it for accounting, it mixed up my records. To get a second copy of QuickBooks to dedicate to check by phone, Intuit would charge another $249 or offer a two user version $399 and the three user version is $649.

Screen Shot: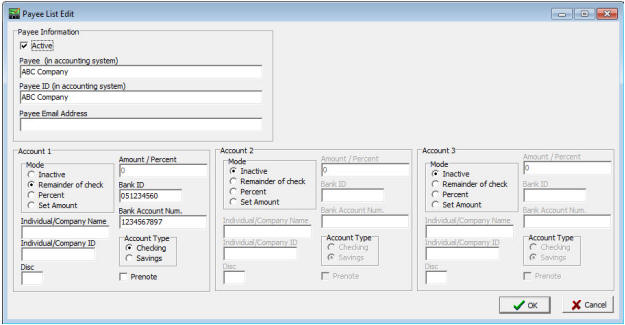 Overall Rating for QuickBooks with PrintBoss:

VERY GOOD
#3. Complete Review of Q-Check software [aka officepro.com review]
Overall Rating for Q-Check:

GOOD
Features:
This software was quite robust and had most of the features needed to take checks by phone, fax or online. It imported with no problem, had password protect security, recurring billing, easy duplicating and an a setup that was simple to navigate and set up. Pay To names need to be set up in advance and must be a business name.

Ease of Use
With a few clicks, I was able to print a draft just by entering the customer information. The program insisted on auto-filling the bank information from an outdated and preloaded database that came with the software. There is a way to update the bank database through the company using a link in the software. The item I printed looked fine but didn't work in the check scanner.

How It Works at the Bank
At the bank, I had no problems depositing these drafts. The self scan ATM machine took the item but could not recognize the amount. I typed in the amount manually and it accepted the deposit. Using the desktop deposit scanner, I did not have any luck. For some reason, it would not recognize the item at a valid deposit at all giving me an, "invalid item, amount does not match," error on each attempt.

Installation Ease
No problems with installation at all. A special registration was required, but until purchase it is possible to just click around the registration screen and use the software.

Help and Support
Intu

The Full Picture
Not a bad application. Updated just last year, it is easy to install and use. The drawbacks are the annual fees, and the fact that the software does not comply with Check 21 regulations, or KYC regulations, making the company venerable to Federal Trade Commission action like VersaCheck had this year. I was a bit confused when I came across the software, as the name "Q-Check" appears to capitalize on the infamous "Q-Chex" - a company shut down by the FTC in 2006 for allowing users unrestricted access to the system which in turn created an environment for rampant fraud.

Just based on the fact that the software is not fully compliant with current regulations, and didn't work with desktop deposit, I had to take off major marks for this software. The other drawbacks were the annual fees.

Screen Shot:

Overall Rating for Q-Check:

GOOD
#4. Complete Review of ChekFaxx Software. ChekFaxx Software Review.

Overall
Rating for ChekFaxx

FAIR
Features:
ChekFaxx was very clumsy, although it seemed to have all of the major features hidden around. There are separate menus for each function. There is a checks menu, a schedule button on the checks menu, a separate print menu, a separate finder, and a separate report generator. The add/edit has 4 separate menus for bank records, clients, checks and vendors which are all stored in different databases or lists. The bank database is a blank database created by ChekFaxx that you can fill up with bank data that will auto populate if you use that same routing number again.

Ease of Use
This was not very hard to figure out, but using it was laborious. The multiple menus that go to different screens were cumbersome and when one menu was up, you couldn't pull up another one because it loced the screen to that function. I was able to produce check drafts, but they didn't work very well - most likely because the last update on this software was in 2004.

How It Works at the Bank
The drafts that I printed did not work with my desktop deposit, and it did not work at the auto-scan "no envelope" ATM either. I enclosed one test as a deposit into my business account from my personal account and my bank teller took it and manually entered it in. When it came back in my statement it was jacketed, so the item had to be altered and manually processed before clearing.

Installation Ease
I downloaded a fully working version with no identity verification as required under current KYC regulations. It installed with no issu on my XP machine but did not work on my Vista or Windows 7 PC

Help and Support
I called ChekFaxx support a few times to see if I could get an updated version, etc but only received a voice mail message asking me to leave my details and I would receive a call back within one business day. I did not test the response time promise.

The Full Picture
ChekFaxx software is heavily promoted online, but has not been updated in over 8 years. ChekFaxx does not comply with current standards for printing a valid Check 21 compliant check or draft. The software does not work on Windows 7 and on XP it is clumsy and cumbersome. The software is marketed contrary to new FTC rulings about distributing working check drafting software freely via download without any identity verification. To top of the mediocre performance of this outdated software, the price is one of the highest.

Screen Shot: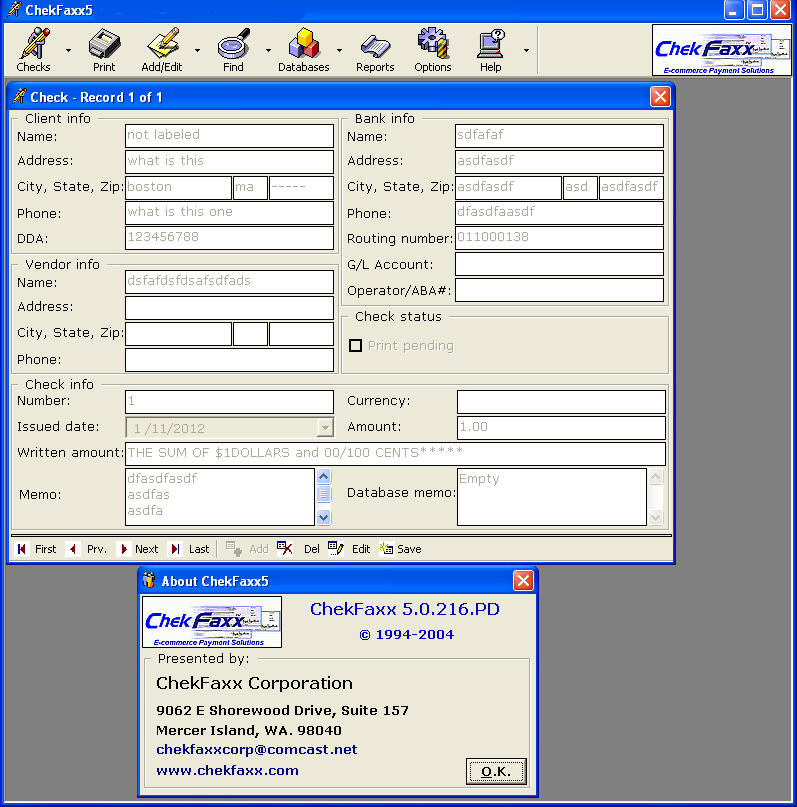 Overall Rating for ChekFaxx

FAIR

#5. Complete Review of CheckMan Software. CheckMan Review.
Overall

Rating for Ch

eckMan

POOR



Features:
CheckMan is over 14 years without an update, and the software has very limited features. While the website is newly designed for 2012, the software is reminiscent of Windows 95 software with its bright teal database tabs and backgrounds. It has one option called file fixer that will fix your database file if it gets tangled up. It will produce a draft of a check or a check and allows you to add a logo, but will not print an item that is Check21 compliant.

Ease of Use
The software installed on my Windows XP but not on my Windows 7 and I was able to use it right away. There was documentation about every function.

How It Works at the Bank
The drafts that I printed did not work with my desktop deposit, and it did not work at the auto-scan "no envelope" ATM either. I enclosed one test as a deposit into my business account from my personal account and my bank teller took it and manually entered it in. When it came back in my statement it was jacketed, so the item had to be altered and manually processed before clearing.

Installation Ease
I downloaded a fully working version with no identity verification as required under current KYC regulations. It installed with no issue on my XP machine but did not work on my Windows 7 PC. It had no errors or issues and took only about 2 minutes to have up and running.

Help and Support
Their support is open 10-6 M-F. I did not use the email based support so I cannot rate it.

The Full Picture
CheckMan software is promoted by Capital Bank Drafts online through a newly designed website for 2012, but the software being distributed by them is 14 years old and copyright 1998. The reality of CheckMan Software is that for the $129 to $949 you spend, you get software that won't work with desktop deposit or new ATMs, it won't work with Windows 7 and could come off the market because they make a fully working downloadable demo available without any authentication at their site.

CheckMan is mediocre performance from a dinosaur for a premium price. This reviewer's advice is steer clear of this one.

Screen Shot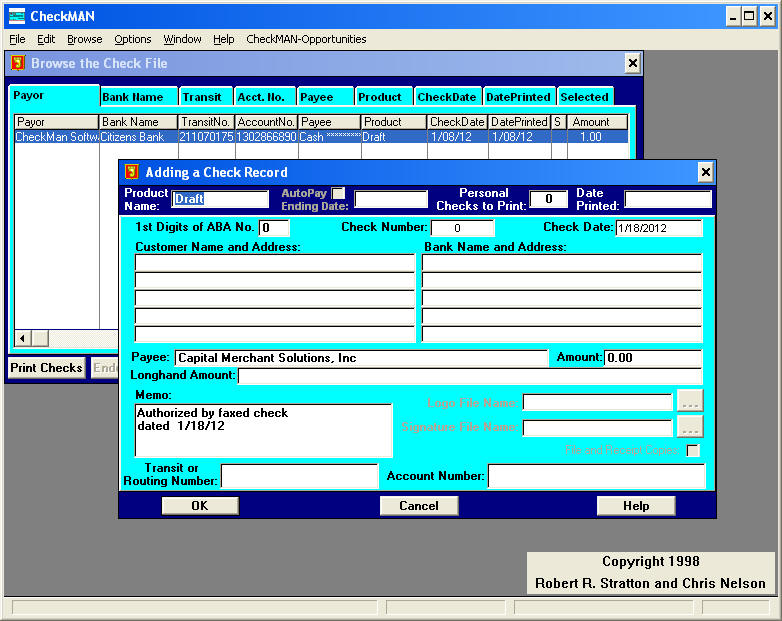 #6. Complete Review of Chax Software. Chax Review.
Overall Rating for Chax

POOR

Features:
Chax from 2007 had scattered teal colored menus that allowed for the creation of a draft, saved transactions and batch printing. It was a bit clumsy, but to the point and easy enough to figure out. The drafts were not Check 21 compliant. It lacks an import and proper monthly billing features as well as invoice printing. The software won't automatically store data, you must specify to 'save' the information to keep it.

Ease of Use
Chax software was simple to use. It was good for checks by phone or checks by fax but had no import interface in the version I had. Once I entered in a few test items I printed them without issue in a batch.

How It Works at the Bank
The drafts I printed did not work with my desktop deposit, even with MICR toner, but I did get one to go into the auto-scan envelope free ATM. The teller also took my item for deposit but it was manually processed and a strip was applied to correct the MICR on the low check number I used.

Installation Ease
I did not have installation issues, and the software did work on my XP and Windows 7, but I had errors after using the software where it produced Run-Time error 5.
When evaluating these programs, I made up tons of drafts from one Citizens Bank account to deposit into a Bank of America account. I used low check numbers to identify each, much like if it was for a monthly billing cycle. If I use a check number like 0012, it would remove the leading 0 and print |"12|" rather than |"0012|" Because this wouldn't work with the desktop deposit, I tried 0000 and it won't allow it.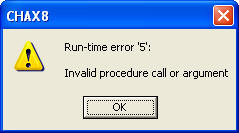 When I tried to use a short account number from a very old checking account, the program produced errors and quit.



Help and Support
Their 11 a.m. to 8 p.m. telephone support hours of operation were a bit annoying, but they are located on the west coast and run on a west coast schedule. They did answer and told me that I could avoid the error by entering a valid account number and valid check number. They made it out like the error was designed into the software to alert me I was entering invalid data. Of course the data is what I wanted to enter.

The Full Picture
For $199 plus $150 per additional PC you get a clumsy product that has not been updated in 5 years. Chax produces software errors, lacks sophisticated features, and produces drafts that are not Check 21 compliant. Even though Chax installs on Windows 7, the drafts still need to be manually processed and jacketed by the receiving bank. Because the items don't work properly with the bank, and it produces errors, this software gets poor ratings.
Screen Shot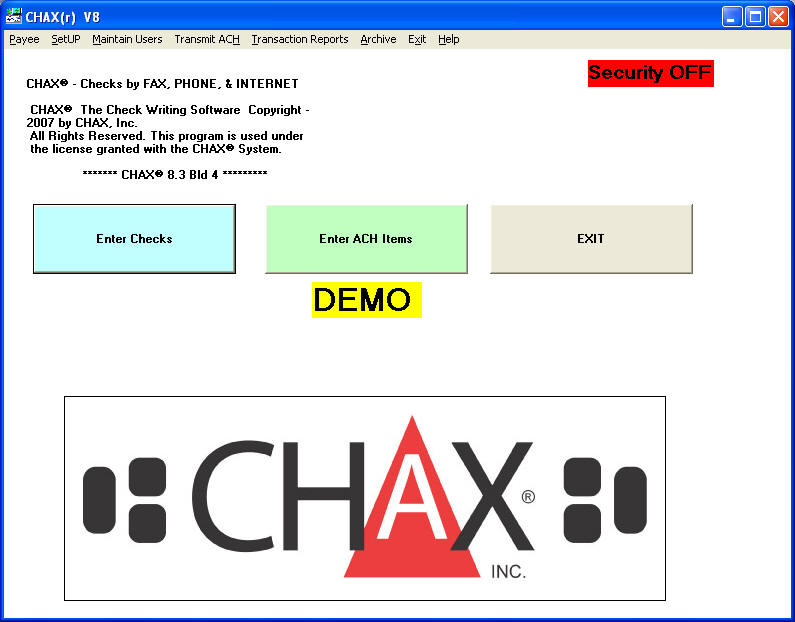 Overall Rating for Chax

POOR

#7. Complete Review of Checkmatic Software. CheckMatic Review.

phonechex.com officepro.com


Overall

Rating for Checkmatic

POOR


Features:
CheckMatic software had all kinds of bells and whistles that you would want in the 1990s like an area code directory and Multi Level Marketing "MLM Panel". It also has import and export, checks and drafts, batch printing, bank data storage, and quite a few of the more useful features you would expect from one of the better products.

Ease of Use
The CheckMatic was quirky but easy to use. It had crazy background pictures on the main menu, but I was able to enter checks and drafts with ease and print them out without even looking at the manual or talking to the technical support. I thought it was user friendly, but the items I tested did not work with the self scan ATMs and did not work with desktop deposit. Come on guys, Check 21 has been around for a long time. I brought my drafts, rejected from my desktop deposit application and from the ATM over to the teller, and my bank jacketed them with no fees, and credited them to my balance without issue. The items were returned paid and jacketed, then converted to images when they appeared back in my statement.

How It Works at the Bank
The checks and drafts that CheckMatic print are not Check 21 compliant or ANSII compliant. They don't work with desktop deposit and don't work in the envelope free ATM machines. Because the bank manually processes them, many banks will likely just refuse them entirely.

Installation Ease
I downloaded the CheckMatic Business Professional Edition with no ID and within 10 minutes I was printing checks and drafts. The menus and functions are numerous and scattered, but easy enough to find. If the software produced legal items for deposit, it may get higher rankings.

Help and Support
Their phone support was available and answered the phone starting at 10 a.m. on the day I installed the software.

The Full Picture
CheckMatic is marketed online at phonechex.com and officepro.com. The software was written in 2001 and while the websites claim a 2012 copyright, the content has not been updated for over 5 years. When I went to order my copy, the site was running a special that expired in 2007.

The software itself is outdated and clumsy and the drafts CheckMatic prints do not work with the current banking system unless they are manually processed and jacketed or striped by the bank. At $169 this software will do nothing but get you into trouble with your bank eventually and it would be best to steer clear of CheckMatic.

Screen Shot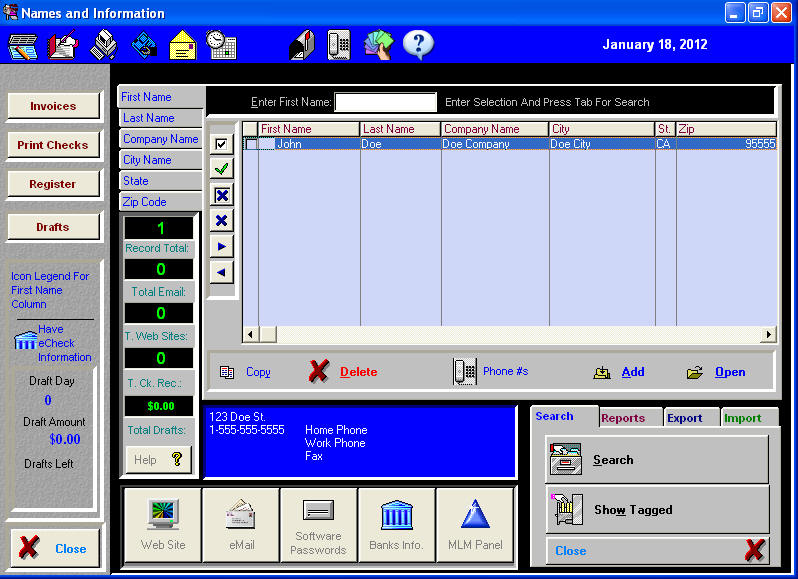 Overall Rating for Checkmatic

POOR
#8. Complete Review of Versa Check Software: VersaCheck Review
Overall
Rating for
VersaCheck

POOR


Features:
VersaCheck software has tons of features, and it is easy to use, install and understand. The publisher updates the software constantly and the checks adn drafts are all Check 21 compliant.

Unfortunately, to use VersaCheck for checks by phone, checks by fax or taking online checks, you must have the customer participate in a one time verification that the merchant pays for using a third party verification service called 'gValidate'. This basically makes the software impractical to use as a payment system because at the end of 2011 a ruling by the Federal Trade Commission threatened to shut down VersaCheck if it did not comply. Until this happened, VersaCheck always received good reviews.

To comply with this FTC ruling, VersaCheck now makes all businesses that buy VersaCheck "gValidate" their clients before a check by phone, fax or internet can be drafted. This means before you can take a payment from the customer, you must get gValidate to make a small deposit of a few cents in the customer's account - then the customer must provide the amount of this deposit to the VersaCheck owner to complete the validation. Only after this back and forth process can a draft be produced. The fees paid by the merchant.

Ease of Use
The software itself is easy to use, but due to the FTC lawsuit against this company, the software is now impractical to use. Any other check by phone software can be used without involving a third party. Using the software for phone orders, collections, mortgage payments, insurance and other industries, this system would be too slow and difficult for the consumer and is a technical support nightmare.

How It Works at the Bank
The banks are returning all items generated from old versions of VersaCheck. They will only take items that have the gValidate approval in most cases. The items all worked with my desktop despot, with the auto-scan ATM and when I brought them to the bank after I gValidated my own account.

Installation Ease
I did install VersaCheck with no problem on my XP and Windows 7 PCs without a problem. No errors no hassles.

Help and Support
Their support was not very friendly and even though they don't advertise that you are REQUIRED to gValidate customers when you buy the software, they will give you a refund if you ask for it.

The Full Picture
VersaCheck was one of the heavy hitters in the check by phone business, but unlike its shelf-mate Quickbooks whose publisher won the BBB Torch Award for industry standards and compliance, the publishers of VersaCheck have an "F" rating with the BBB and the company has been in hot water before with a long history of shady behavior. According to the Federal Trade Commission's lawsuit, the publisher distributed VersaCheck illegally at Staples, Office Max and other consumer outlet stores where anyone could buy the software anonymously, thereby making it a prime tool of choice for fraudsters, money laundering operations, and even organized crime. Not a good match for business payment software in this reviewer's opinion.

Screen Shot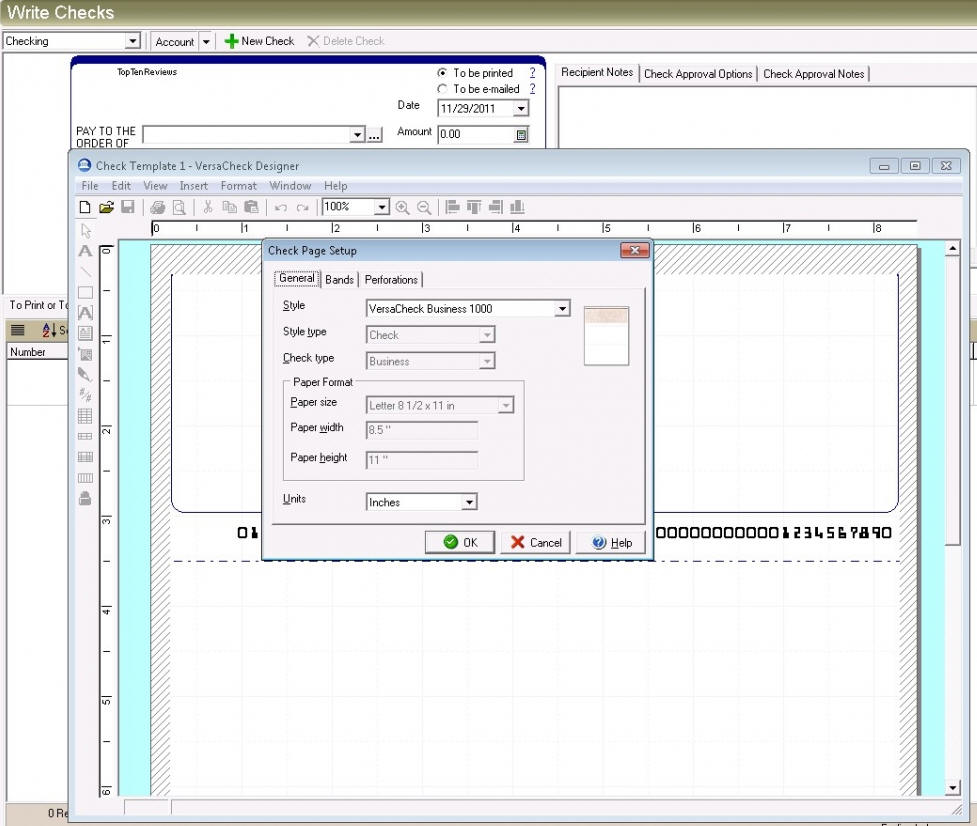 Overall
Rating for
VersaCheck

POOR
#9. Complete Review of Checksoft Software: CheckSoft Review
Overall Rating for CheckSoft

POOR

Features:
CheckSoft is designed to organize finances, and allow the end user to design custom business checks to be printed with MICR toner. The software will do the MICR printing needed to take checks by phone and fax, then create a draft for deposit, but it is very poorly designed. It has the ability to print business and personal checks, payroll checks and to create custom checks with logos and designs. It claims to work with Quicken and Quickbooks but did not work with mine. It does have reporting, and an import feature that work well. It does not do monthly billing or manage your customer payments.

Ease of Use
The software is not easy to use. As it is sold retail there are tons of other online reviews of this software. It was not just me, it was apparently everyone who ever purchased this product, then returned it to Staples or Office Max. Many of the functions like linking with Quickbooks do not work and the check design features are laborious. It is not good to use for payment software, or for check design software.

How It Works at the Bank
The checks and drafts that this software can eventually produce work with desktop deposit, the self scan "no envelope" ATMs and for deposit with the bank teller without jacketing manual entry. The one thing the software does do is print Check 21 compliant and ANSII conforming items.

Installation Ease
I did not have an issue with my XP machine and the software installed without any problems. It is not designed for Windows 7 as of the purchase I made on January 3, 2012.

Help and Support
Their support is 11 a.m. to 9 p.m. eastern time I found out from the publisher's site, but if you call it just keeps telling you you are calling outside of regular hours.

The Full Picture
I reviewed this software because it was on the shelf at Staples next to VersaCheck and was available online everywhere I looked. Also available online, unlike most of the other products reviewed here, are tons of other reviews that overwhelming support my own rating of "TERRIBLE".
Screen Shot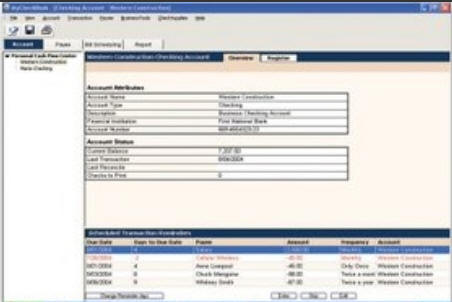 Overall Rating for CheckSoft

POOR

Back to Top

#10. Complete Review of My Software: My Software Review
Overall Rating for My Software

POOR

Features:
This software has very few features and is no longer published. Until 1999 this software was sold in boxes at retail stores. In 1999 it was pulled from the shelves and rather than destroying the stock, it was sold to liquidators who reintroduced the outdated software online in 2002 though vendors like Amazon.com. It only works on Windows 95 and 98 and won't work on XP, Vista or Windows 7.
Ease of Use
This software is impossible to use if you have Windows XP or better. I was unable to get it to install at all.

How It Works at the Bank
The software was made before Check 21 regulations and does not comply with modern check printing standards. No banks will accept these

Installation Ease
I did not get this software to install at all.

Help and Support
Their support is gone and the company is closed. This is just an old software package dumped on amazon.com and other sites and is useless.

The Full Picture
Basically, as noted above and in these public reviews, this software is totally useless. It is available everywhere when you search for check by phone software but it won't actually work. I rated this one the worst, although I only wasted $19 on it.
Screen Shot
NONE - COULD NOT GET INSTALLED ON PC
---------------------------------------------------
Compare with other brands of checks by phone software.
------------------------------------------------------------------------------------------
Overall Rating
The overall rating combines the features, ease of use, installation ease and support and rates the 10 most popular checks by phone, checks by fax and online check drafting software packages and programs.

Features Top
The features are detailed below - the feature star rating is based on the combination of the individual features for each of the software products.

Ease of Use Top
Ease of star rating is based on the actual user experience and how easy the software really was to use. Not just how easy was it to figure out, but how easy was it to use on a daily basis for multiple payment situations.

Installation Ease Top
This is how easy it was to get the software installed - from dropping in the disk, to opening the software for the first time.

Help / Support Top
The support rating is based on the type of support, the hours they were available, if they actually pick up the phone, answer their email and if they are helpful when they do.

Legal Compliance

Check 21 Compliant Top
This is basically yes or no. If the drafts the software prints are Check 21 compliant and work with desktop deposit and remote deposit capture (RDC) and if they work with the automatic scan ATM machines with no envelope required.

Vendor complies with KYC regulations Top
Because this software is payment software, and can facilitate funds transfer, the sellers or publishers must follow proper KYC guidelines requiring all purveyors of such software to know their customers and follow formal and complete process to verify that the end user will be a business and that the software is not sold or distributed outside of U.S. software export law requirements. Vendors that provide free, working downloadable copies of the software on a trial basis have already been ruled by the Federal Trade Commission to be unlawfully distributed.

Why would you care if the company you buy your software from complies with this regulation? Basically, companies that do not comply with distribution regulations propagate fraud. In the case of Q-Chex and VersaCheck the Federal Trade Commission came down hard and most of their customers lost their money. Other companies that don't follow these rules will eventually be targets for regulatory agencies and law enforcement, making them less reliable.

Legally Distributed Top
Is the software distributed according to current guidelines for KYC? Software made available for download without authentication of the end user is not legally distributed. Software distributed for download to know IP addresses belonging to countries where the U.S. has trade embargos is also illegal.

Complies with ANSI Standards Top
Does the finished draft comply with the standards and regulations of the American National Standards Institute (ANSI).

Prints Drafts Top
Will the software print check drafts with no signature required.

Prints Checks Top
Will the software print checks that can be signed by the account holder and used as a negotiable instrument?

Stand Alone System Top
Is this a stand alone system, meaning not a virtual terminal or service that runs through a third party. Stand alone systems reside on your local PC and the customer's account information never passes to a third party. In a stand alone system, the funds are never handled by a third party, only by the end user.

Complies with Data Security Standards Top
Arizona and Massachusetts have the strictest security standards and require any confidential customer data to be password protected with a secure password that is at least 7 characters and alpha-numeric. If the software allows for such protection it is considered compliant with current data security standards.

Features

Checks By Phone Top
Will the software accommodate checks by phone?

Checks By Fax Top
Will the software accommodate checks by fax?

Web Payments Top
Will the software accommodate Internet orders, shopping carts, web order forms?

Includes Sample Authorization Forms Top
Does the software have a document center or downloadable forms that can be used customized and authorization of payment?

Web Form Provided Top
Is a web order form or template included?

Automatically Stores Payment Data Top
Does the software automatically store the customer's information or is it a manual process every time?

Top Check Format Top
Does it print on standard business size TOP CHECK blank check stock?

3-per Page Format Top
Does it print on standard business size 3 PER PAGE blank check stock?

Batch Printing Top
Will the software do batch printing? This is when you run a print job of multiple payments at one time in a group, rather than one by one.

Monthly Billing Top
Will the software allow you to set up, or does it have directions on how to set up, monthly billing where a customer pays monthly on one particular day of the month for a specified number of months or indefinitely.

Recurring Payments Top
Does the software allow the user to set up recurring payments.

Prints Invoice Top
Does the software print a valid invoice that can be sent to the customer to comply with some outbound telemarketing requirements for checks by phone payments.

Invoice works with Window Envelope Top
Does the software print an invoice that can be folded and dropped into a window envelope?

Prints Advice Stub Top
If the software prints top check, does it print an advice stub that can be mailed to the accountholder to comply with some outbound telemarketing situations.

Imports Data From File Top
Will the software import a file from CSV, TXT, XLS, MDB etc.?

Exports Data To Usable File Top
Will the software export to a standard format, non-proprietary file format?

Fees Top
Are there any ongoing fees vs. one-time purchase

Annual Fee Top
Is there an annual fee?

Monthly Fee Top
Is there a monthly fee?

Per Check Fees Top
Are the per check charges?

Per Check % Top
Is there a percentage charge or discount rate?

Supported Configurations

Windows 7 Top
Does the software install on Windows 7?

Windows XP Top
Does the software work with Windows XP?

Technical Support

Telephone Support Top
Does the company offer telephone support?

Email Support Top
Does the company offer email support?

Hours of Operation Eastern Time Top
What are the company's hours of operation?

User Manual Top
Is there a user manual? Help?

Reputation

Published Since Top
When was this software first published.

Software Last Updated Top
When was the last time the company updated the software?

Government Actions Top
Are there any pending suits against the company or government actions from the Federal Trade Commission, the Federal Reserve or other regulatory agency?

BBB Review Top
A direct link to the BBB report on the software publisher.


Date this review was updated: November 8, 2012
Back to Top| 1 | 2 | 3 | 4 | 5 | 6 | 7 | 8 | 9 | 10 | Compare All | Site Map